***COVID-19 UPDATE****

BUILDING: Our office is staffed Tuesday and Wednesday from 9-3:30, and Friday from 9 - 3. Only our staff, church officers (our Clerk, Treasurer, Elders and Deacons) and those who have appointments or scheduled meetings are permitted to enter at this time. The Pine Street door is unlocked during business hours, and you may drop off or pick up items at this entrance.
Nonprofit groups of 10 people or less may schedule meetings of up to an hour in our Fellowship Hall - use requires face masks, social distancing and temperature checks. Narcotics Anonymous has resumed meeting Sundays at 7 p.m. and Thursdays at noon with these same conditions (masks, temps, up to 10 people per room); NA is not meeting here at this time but holds meetings at St. Mary's church in Paw Paw.
WORSHIP: You can worship with us at 10 a.m. Sunday morning through our Facebook livestream. You do not need to have a Facebook account to access the livestream - just click the link below. Weekly worship videos will continue to be posted on the VIDEOS page of this website, along with music meditations and other devotions and announcements.
SUNDAY 10 AM LIVESTREAM: Find us on Facebook by clicking here!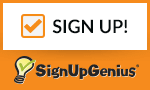 Sign Up!WORSHIP IN PERSON RESUMES: Beginning with our September 20 service, a limited number of people can sign up to attend worship in person, which will be held outsides whenever weather permits. Our outdoor services will also be available through livestream. Click the Signup Genius button on the left to reserve your spot.
NEW - Small Group Survey! Looking for other ways to stay connected? Take our Small Group Survey to be matched with others who like to connect in the same way. Groups now forming for Bible Study on the Gospel of John, social justice themed book club, the Covenant Bible Study and more. We also have groups for grade school, middle school, high school and local college - see our YOUTH CONNECT page.
**IF YOU NEED PASTORAL CARE OR EMERGENCY ASSISTANCE, please call the church office at (269) 657-3111, or contact the office by e-mail to firstpres1@btc-bci.com. Non-members seeking financial assistance should contact our mission partner, United Christian Services of Eastern Van Buren County.
=====================================================================

Check out what's new in our GOOD FAITH LIBRARY
FIND US AT -
120 Pine Street, Paw Paw, MI
Office hours: M-F 9-3:00
Beautiful, gleaming steeple marking our downtown Paw Paw church
Welcoming front entrance with covered drive and handicapped side entrance. and parking

Easy parking behind the church